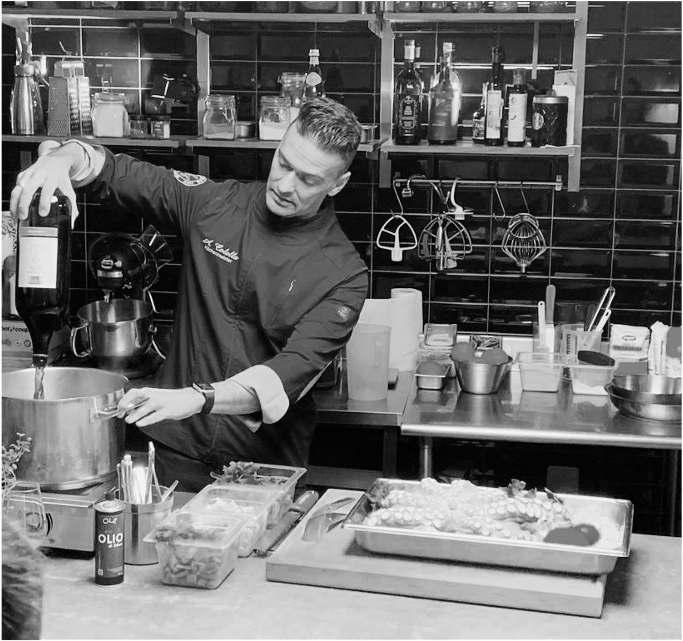 The Colella family, based in Eschenbach in the Upper Palatinate, has been serving their guests Mediterranean specialties since the 1970s.
Inspired by his parents' home, managing director Adriano Ricardo Colella began his apprenticeship as a chef in 2001. After successfully graduating, Adriano gained experience on an international level through cooking competitions, events and his subsequent permanent position. In 2014 he graduated as a master chef from the IHK in Frankfurt, which is a guarantee for professional hospitality. Adriano R. Colella founded Colella's Catering in 2017. The company sees itself not only as a pure caterer, but also as a competent and professional partner for every individual occasion. That is our claim, because we know no limits when it comes to premium catering and event management. Isn't possible, doesn't exist…
In 2022 Adriano R. Colella took over the bar and event service "Event mit Herz". With the gain, the company is even better positioned in the area of bar service and equipment, which complements the planning, execution and follow-up of your event from thought to enjoyment.
We accompany, support and inspire you from A to Z. Creative food and event concepts, the highest quality, perfect service and personal support are our favorite ingredients for your unique and unforgettable event. Whether it's a small private event among friends or a major event, we are a catering service provider out of conviction.
We offer you individual food concepts – creatively and ingeniously created with honest devotion – always tailored to your personal wishes and ideas. We only use the best quality products from trustworthy suppliers, because we attach great importance to quality, freshness and sustainability.
"When an architect makes a mistake, he lets ivy grow over it.
When a doctor makes a mistake, he has earth poured over it.
If a chef makes a mistake, they pour a little sauce over it and say this is a new recipe."
– Paul Bocuse –